Time Magazine - May 30, 1969 - Page 61
Modern Living - article titled "Antiques - Iron Belt"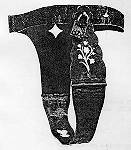 It was an idle boast, but now David Renwick, 32, is anything but idle. An artsy-craftsy Englishman who set up shop near Sheffield four years ago to practice the dying art of hand-forging iron, he whimsically wrote to an American pal: "I can make anything from lamps to chastity belts." The pal promptly responded with an order for a hand-forged chastity belt for an anonymous Texan. Well, why not? Renwich found a design in a public library, forged a replica - and immediately received orders for 40 more.

Since then, Renwick has little time to produce anything but chastity belts. Orders for his belts - decorated with a frilly flower design and diamond shaped cutouts around the waistband - keep arriving from the US, France, the Low Countries and Scandinavia. A Mr. Fung of Hong Kong wanted one with a 32 inch waist. A dealer in Italy asked for 150 of them and in Kuwait, Renwick's agent reports that a few sheiks are interested in his wares.

"I'd much rather make a weather vane or a fat cow than reproduce something as inherently horrid as a chastity belt," Renwick insists. But he keeps forging ahead - at $60 a belt.
---
[ Back to female chastity belt page ]
[ See related page on David Renwick ]
Page last updated 97-Nov-04 by: Altairboy@aol.com